"Put Vacant Land in Community Hands" is our Land Justice Campaign's research and call to action.
Download Report
The Land Justice Campaign Arrives at City Hall
On January 28, 2021, PCAC members held a press conference at City Hall to launch our campaign.
Land Justice
The Philadelphia Coalition for Affordable Communities is calling for the passage of legislation that supports the disposition of publicly-owned property for community-led affordable development.
We have legislation introduced that could get us permanent affordability and community control of city-owned vacant land, but that bill is not yet in committee. We're asking people who have a shared vision for our city to amplify our calls for action. We want to take this time to thank our legislative champion and co-sponsors, but also let the Philadelphia City Council know we're all watching.
To help the many organizations and individuals who support #LandJustice4PHL, we are providing sample content to share with your social media networks on Twitter and Facebook. Please share content from this social media toolkit starting Wednesday, March 23, at noon EST. Thank you for taking the time to help us amplify this important message.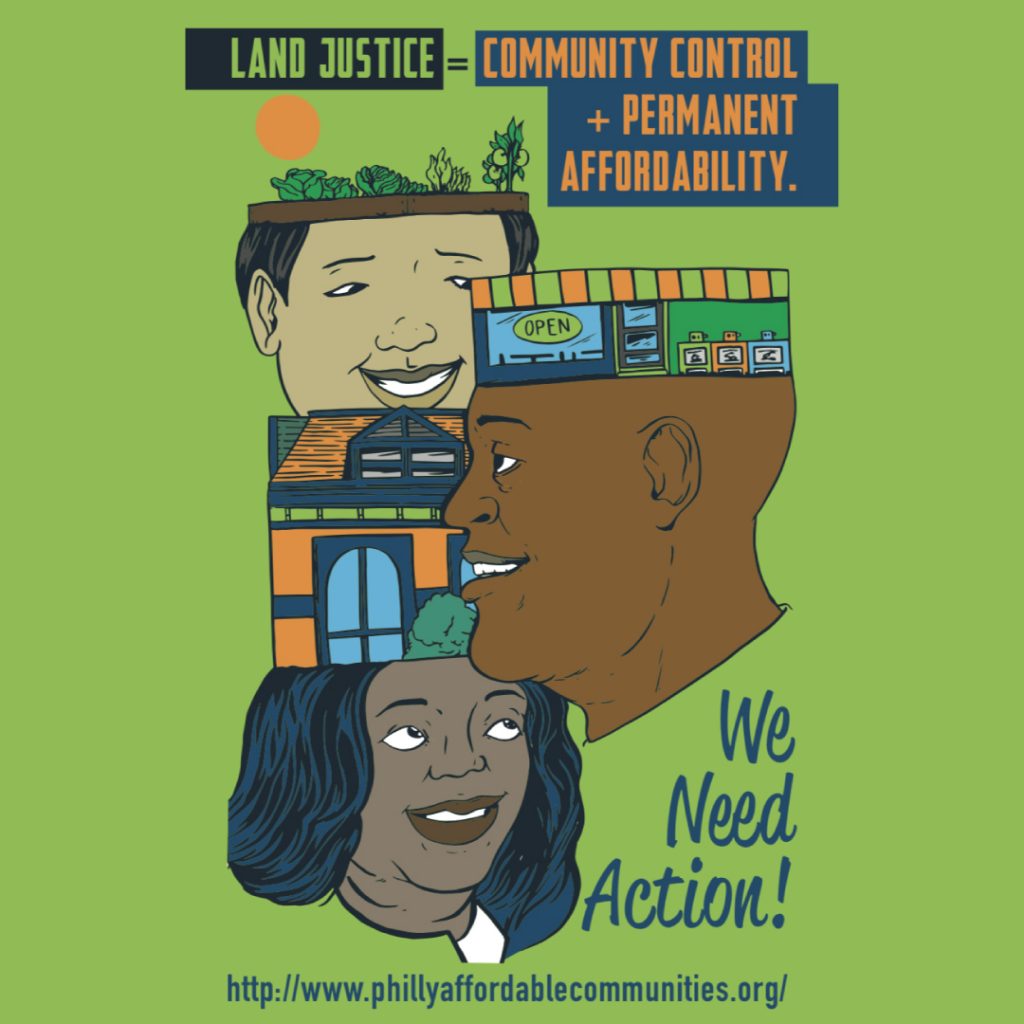 COALITION MEMBERS
Women's Community Revitalization Project
United Food and Commercial Workers
East Park Revitalization Alliance
Firm Hope Baptist Church
Disabled In Action
Liberty Resources
Circle of Hope
AFSCME District Council 47
United Communities of Southeast Philadelphia
Philadelphia Jobs With Justice
AFSCME District Council 33
Kensington Renewal
Maypop Collective for Climate and Economic Justice
All That Philly Jazz
Arab American CDC
Viola Street Residents Association
My Place Germantown
Housing Alliance of Pennsylvania
United Home Care Workers of Pennsylvania
SEIU Healthcare Pennsylvania
Mental Health Partnerships
Farm to City
Southwest CDC
The Simple Way
Simple Homes, PA
Applied Mechanics
Land Health Institute
Aquinas Center Youth Voices
Advocates for the West Fairhill Community
ACT UP Philadelphia
Philadelphia Orchard Project
Philadelphia Area Cooperative Alliance
Poor People's Economic Human Rights Campaign
People's Emergency Center
PennFuture
Habitat for Humanity-Philadelphia
Caucus of Working Educators
15 Now Philly!
Universal Homes
Logan Orchard and Market
Spatial Justice Lab
Life Center Association
Unite Here Local 274
Impact Services Corporation
Mariposa Food Co-op
Resource Generation Philadelphia Chapter
Tenants Union Rights Network (TURN)
SEIU 32BJ
Youth United for Change
Faculty and Staff Federation of CCP
Mount Vernon Manor CDC
Pennsylvania Association of Staff Nurses and Allied Professionals
Community Legal Services of Philadelphia
Showing Up for Racial Justice-Philly Local
Self Determination Housing Project of Pennsylvania
Dignity Housing
Lutheran Settlement House
Save Smith School Committee
Philly Tenants Union
Regional Housing Legal Services
Sunrise Movement Philadelphia Hub
Norris Square Community Alliance
Snyderville CDC
New Kensington CDC
Reclaim Philadelphia
Friends Rehabilitation Program
Working Families Partnership
New Jerusalem Laura
215 Peoples Alliance
Center City Organized for Responsible Development
Germantown Housing Justice
Homeless Advocacy Project